The fourth race of the season was held at the Minooka Park in Waukesha, Wisconsin.
We arrived on Saturday, the day before the race, to pre-ride the course. This race was about six hours from home, so I was happy to arrive at the venue and ride my bike.
The Minooka race course was very similar to how I remember it from last year, with a long one and a half-mile section of two-track right out of the start. The singletrack was very fast and flowy, with tight corners and left no room for little mistakes while racing.
The pre-ride went well, and the weather looked dry for the next day, and I was excited about the challenge of what tomorrow held.
Before I get into the race report, I wanted to share a little something that has been a part of why I race and a very big motivator for me throughout this season and the last.
Last season I came across a post by professional Trek sponsored rider, Ellen Noble. She had put a piece of tape on her head tube that read "for those who can't" during one of her races to serve as a reminder. When I saw this, I thought it was an awesome idea.
At the next race, one of my good friends from my team used tape and wrote "for those who can't" on our head tubes. I have continued putting tape one my head tube with those words on it this year too. I've gotten a lot of questions about what it means, and why race and train with it on my frame. The answer that I give is simple: It keeps things in perspective.
There are a lot of people who are not physically able to get on a bike, and I'm privileged enough to get to race mine. I never want to take for granted how incredibly lucky I am to be able to get on my bike and race. The tape serves as a reminder to me while I'm racing and suffering that there are people out there who would love to be able to do what I'm doing.
Suffering is a privilege.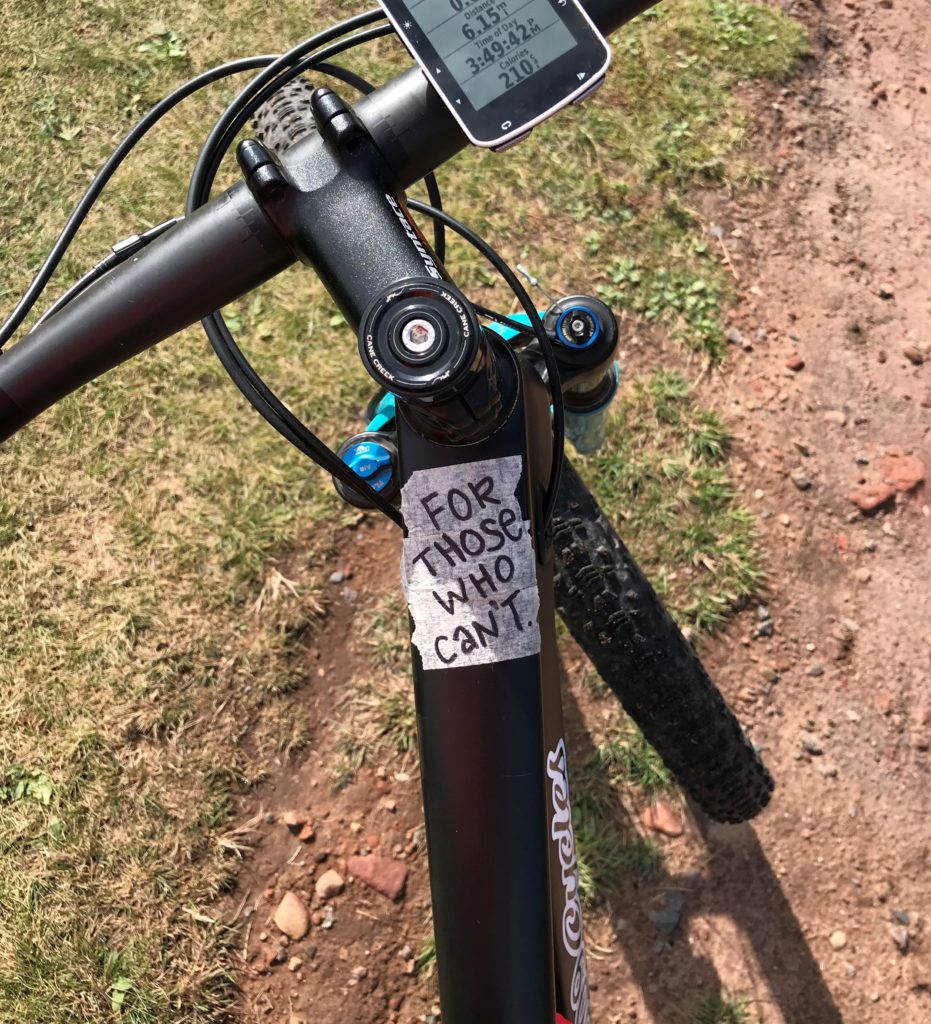 Sunday was race day. It was the coldest race of the season, about forty degrees. The high school girls warmed up together and then went to the start line.
No matter how long you race for, I don't think the start line nerves ever go away. And if they do, you're probably in trouble!
So, with a minute to go, I gave my winter (yes, a parka!) jacket to a coach and waited for the final countdown.
Ten…Nine…Goooooo!
The start was extremely fast and led us right up a steep two-track uphill, with all the girls rallying for a position. After about a half mile I found myself in the lead group of three, but as the two-track wore on, I was unable to keep my position with the two girls in front of me, and they created a gap.
I was alone for most of lap one and two, but during the middle of lap two fourth place began to edge up behind me. I held my lead through the end of lap two and tried to create as much of a gap as I could going into the two-track at the start of lap three.
I had a small gap on most of the two-track but once we got onto the twisty singletrack, she was right behind me again.
The finish of this race is about a quarter-mile of two-track that starts after you pop out of a flowy singletrack downhill. I was leading down the last section of singletrack, and as soon as we got into the open, I knew it was going to be a sprint finish.

I was still leading, but I could tell she was coming close to me- I could see her front wheel aligned with my back one and we were both fighting hard. We came around the last corner before the line, and I was able to hold my (extremely slight) lead across the line to beat fourth by less than a second.
I loved this race because of the new challenges it gave me, and the exciting sprint finish experience! And also because it is so fun to see the progression. The time between me and the leaders was the smallest of the season, and I'm so excited to see if I can improve upon that at the Championship race!
See you next time…Thanks for following my adventures!