NICA Race #2 Nine Mile in Wausau
The second race of the season was held at the Nine Mile Recreation Park in Wausau, Wisconsin.
We arrived in Wausau Saturday afternoon, and I headed out for a pre-ride with some high-schoolers from my team. Going into this weekend, I was very unsure and nervous about crashing after last weekend, so my main focus was to have a clean pre-ride and race the next day.
The course had been changed a significant amount since last year and there were a lot of fast burmy turns, and the course was slightly slick. Now, after last weekend, seeing all the tight turns only dug me into a deeper hole of self-doubt about how I was going to be able to perform the next day, but I was happy to get through the pre-ride crash-free. Three laps of the course at Nine Mile was a little over twenty miles, with almost five hundred feet of climbing per lap.
On Sunday morning, I was feeling extremely nervous. I knew the expectations for performance would be heightened from last weekend, (because of last weekend's crash). Now, I think this is where I could have done something a lot different. Racing is not about worrying about other people's expectations. Racing is not about achieving someone else's goals.
Racing is about perseverance, bettering yourself, and giving one-hundred percent no matter the circumstances.
After warming up with the 906 girls, it was time to line up.
Front row introduction.
National anthem.
Two minutes to start.
Thirty seconds to start. Calm down, Ethel.
And we were off. I had a strong start, and I was happy with where I was going into the first section of single-track, right behind 3rd place. We were pretty tightly grouped together, and about a fourth of a mile into the single track, I went over a roller too fast and swerved so I wouldn't hit the girl's tire in front of me. Big mistake. It wasn't a horrible crash, but I lost some valuable time. It didn't cause a lot of physical pain, but it made me overly cautious going into all the turns, losing a lot of free speed because of nervousness.
After hopping up from my crash, I spent almost all of lap one playing catch-up in fourth place. Towards the end of lap one going onto some two-track, one of my teammates, Erin, came up beside me and said "Come on Ethel, let's work together, we can catch them."
So with that, we challenged each other with the pace, going back and forth with leading, but never able to come close enough to catch up to third.
My whole body was in an immense amount of pain, and I just wanted to finish strong.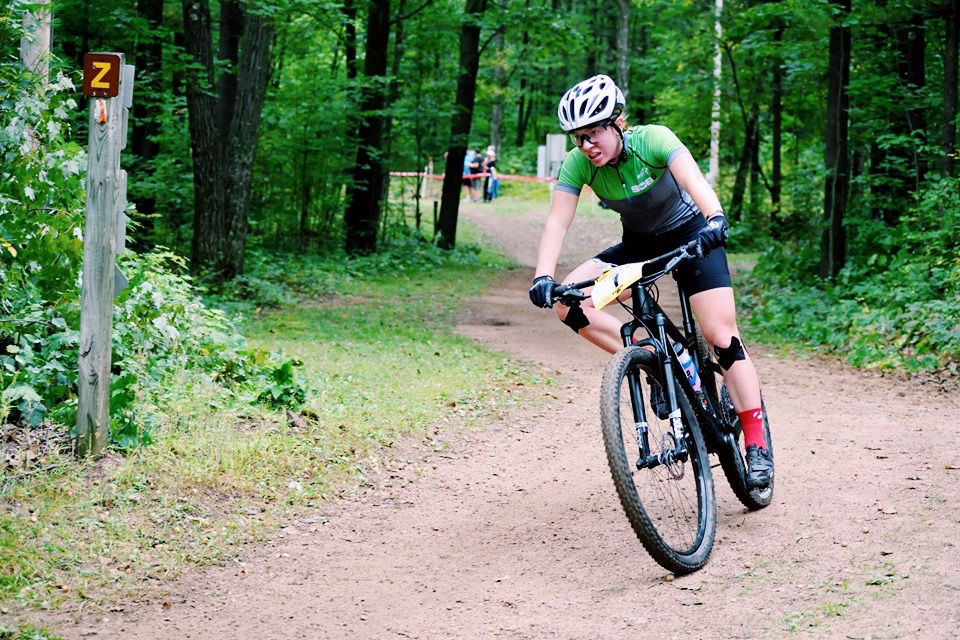 Going into the third lap, Erin and I were still going back and forth with each other for 4th place. I led through some single track, and once we got onto the two-track, she pushed the pace a bit, and I wasn't able to keep it. I could see her in the last section of single track, just ahead, and I was frustrated with myself for not being able to keep up. I finished strong ten seconds behind Erin, in a disappointing fifth place.
I learned some very important lessons this race. It's ok to crash, it's ok to be nervous, but it's not ok to tell yourself you can't.
Any day I get an opportunity to race my bike and finish strong, is a good day. I may have not got the results I was hoping for, but its fuel for the fire. You can't change past results, but you can work towards better ones in the future. Mindset plays a big role in mountain bike racing, and being positive no matter the circumstances is always something that I can work on.
Thanks for reading!