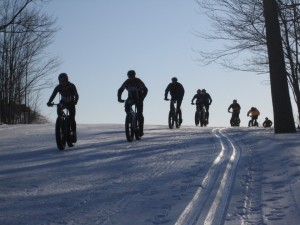 The sport of "snow biking" is growing in participation-and quickly!  Snow Bikes or "Fat Bikes" are defined as bikes with 3.7″ or wider tires, the purpose of which is floatation on soft surfaces- usually snow or sand. It really works, but biking in the winter is colder than summer, so dress like you were going x-c skiing- warmer gloves and windproof clothing.  Most riders also use regular or "flat" pedals so that they can use a warmer boot rather than biking shoes.
Currently snowbikes are permitted on all MTU trails that allow walking and dogs.  That's much of the "upper loops" to the west (right) of the main trailhead parking.  At Swedetown, the club has adopted "Fat Tuesdays"–AFTER 6PM ONLY, snow bikes are allowed on ALL trails.Please note that there are some rules to follow.   PURPOSE built snow bikes only!  STAY out of the classic tracks.  BIKES yield to all other users. (Bikes have brakes, skiers don't.)  BE a good trail user. If conditions cause you to leave ruts that will impede skiing,please leave the trail.  BE  an ambassador for the sport- be polite, educate other bikers, discourage bad behavior, and follow the rules. BUY a trail pass.   It's expensive to groom the trails, if we all pitch in , we can all have fun.
So if you want to check out this new sport, now is the time. We stock snow bikes with 3.7″ and 4.7″ tires to buy , or rent one to see for yourself how much fun this can be!  Here in the Keweenaw, "ride all winter" usually meant inside on a trainer- now there's a choice.