If you have been in our shop you may have met one of our mechanics, Murphy Mallow. Murphy currently attends Michigan Tech and is pursuing a degree in biomedical engineering with a minor in electrical engineering. After a conversation about how much mountain biking can benefit you mentally, we asked Murphy (who started mountain biking about three years ago) if he could write a bit about the changes he's noticed since picking up a bike.
Getting outside of your comfort zone is different for everyone, but getting started is as easy as picking up a bike and going for a ride. You never know what you might find out there. Whether you're an avid rider already or you're not into biking at all, we hope this inspires you to get outside and clear your mind. Enjoy!
……………………………………………………………………………………………………………………………….
I started mountain biking about 3 years ago now, and it has changed my life quite a bit. I picked it up at a time where I was about a year out of high school sports and had really been struggling to stay active and I wasn't adapting well during my first year at Michigan Tech.
In terms of mental health, mountain biking has allowed me to become a more well rounded individual and has brought many relationships that would not have been possible otherwise, especially over the course of the last two years.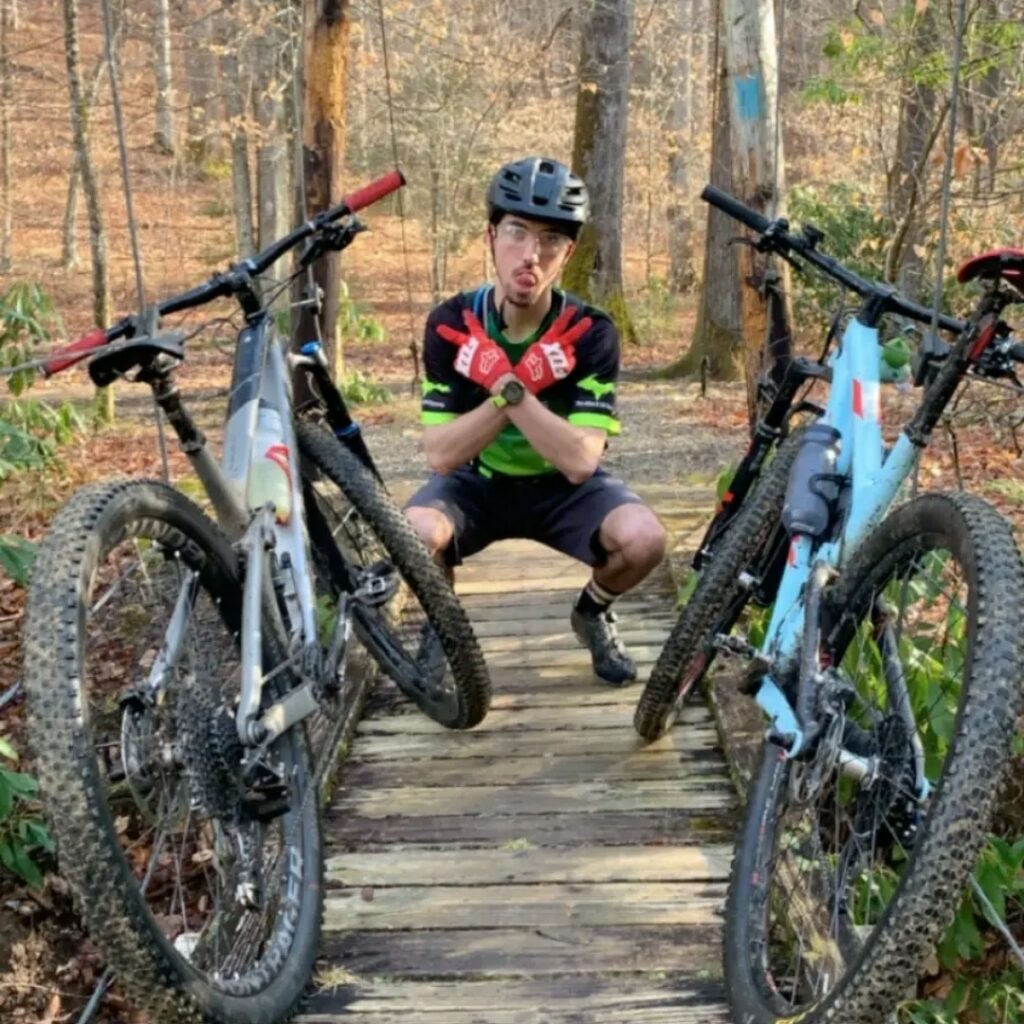 When quarantine started, it was hard to adjust and stay focused, so the best way for me to have a good day in school was to get outside and ride, no matter the length or intensity. It helps me to clear my mind and not think about anything else but the trail and what's in front of me. That mindset while on the bike helps with school, especially if I've hit a mental block and take a break to go riding. Oftentimes when I come back to it with that reset, I figure it out problems and move past the mental block a lot quicker. During quarantine and having online classes this fall, I used biking as a way to make sure I didn't get run down with school or procrastinate (any worse than I already was).
Mountain biking has also helped me break out of my shell. There's a certain amount of commitment that you need to have when you are riding a bike, otherwise you don't have fun, and that can be carried over to a lot of life situations. There are many times where going big on the trail has and hasn't paid off, but pushing myself outside of my comfort zone has been essential to personal growth. From a physical standpoint, it has helped me to get all around more active, and put in effort to better myself physically when I'm off the bike.
Integrating mountain biking into my daily routine has made me more productive and focused on what I really want to get out of myself every day.