The third NICA race of the season was held at the Nordic Mountain Ski Hill in Wild Rose, Wisconsin.

The weather for the pre-ride on Saturday was a comfortable sixty-ish degrees, and as it turns out, that was the only good weather we would get that race weekend.
The course was very fast single-track and two-track for the first couple of miles, before it cuts into some more technical trail which takes us up and across part of the actual ski hill. There was about 400 feet of climbing per lap, which I was excited about.

For those of you who are unfamiliar with what the National Interscholastic Cycling Association is, or if this is the first blog you've read so far (welcome!), I thought I would take a minute to tell everyone a little more about it. The National Interscholastic Cycling Association (NICA) develops interscholastic mountain biking programs for student-athletes across the United States. There are currently 31 states with NICA leagues, and the 906 adventure team is part of the Wisconsin league (Michigan does not have its own league yet). Wisconsin hosts' five races in the NICA season, with a total of 56 mountain bike teams (from Wisconsin) coming to each one. Each team consists of both high school and middle school students, starting at 6th grade, and the races are divided by grade and skill level.
Sunday was race day. The weather had turned a full one eighty from the previous day, with rain coming down and promising a slick, super muddy course.
Despite the rain and cold, I was excited to get out there and just do whatever it would take to get through three laps.

The Varsity girls lined up, with about ten minutes to start.
Tire pressure check.
Eat Bloks.
One minute to start.
Hand off rain jacket to a coach (you guys are all awesome!).
GOOO!
And just like that, we were out of the very slick, grassy two track start. One thing that a coach said just before we started that stuck with me was "you can't win the race in the first mile". With three laps and each one (depending on the course) being about five miles, leading for one mile and then bonking was not something I was interested in.
Through the start of the first lap all of the girls were keeping together pretty tight, not wanting to slip out on the grass and slick single track. Once we got to the start of the more technical single track, we started spreading out and I found myself pushing in third place, and feeling good.
The trail going up the mountain was FULL of mud. Halfway through lap one I was already coated with mud, along with my bike. At the start of the second lap I was still holding on to third place and I couldn't help but smile. I love racing in the mud, and I was having fun more than anything.
Up unto the side of the mountain in the middle of the second lap, my chain slipped off, so I hopped off to put it back on, but it wouldn't stay because there was so much mud on my chain. After putting it on and having it fall off two more times, three more Varsity girls passed me but I knew that I had one more lap if my chain would just stay on. They had a little gap on me now but I saw them up ahead and was able to make some passes on one of the wider sections, finding myself in fourth and knowing that third place was right ahead. I caught third on a muddy climbing section and was able to pass and hold the lead until the end of lap three and to the finish.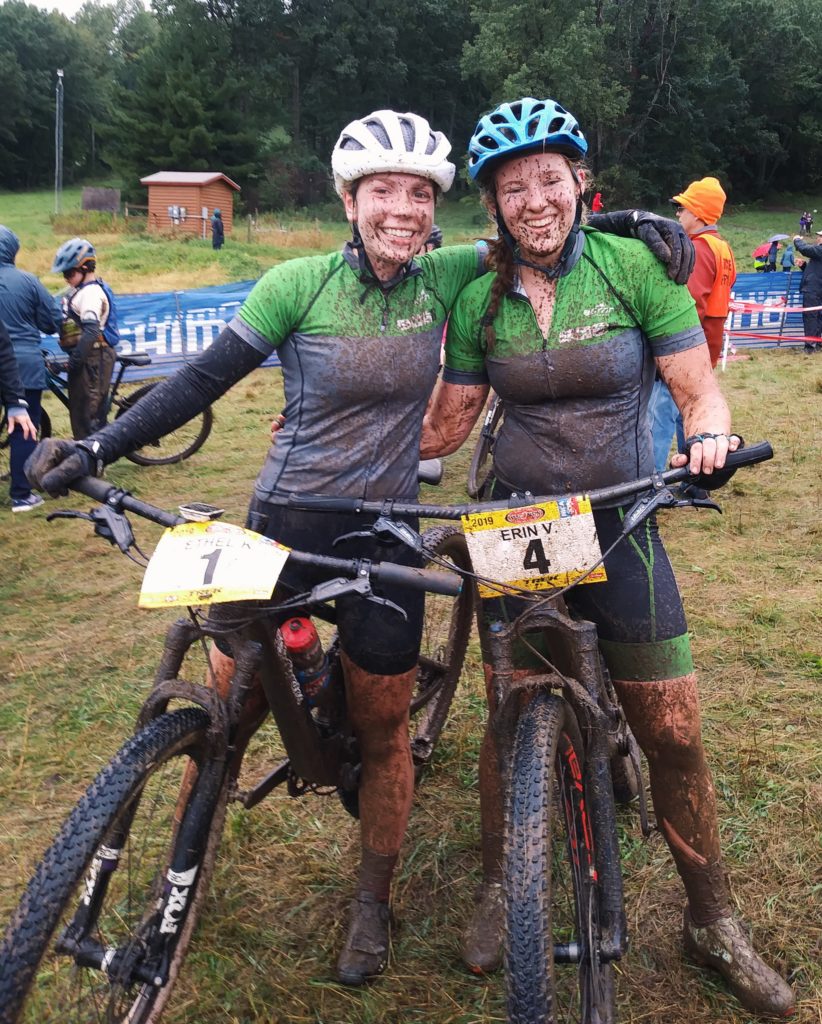 I was happy with how this race went, mostly because it really did show that having a good attitude even though the weather and course conditions were less than great, that doesn't mean you can't have a great race.
This season so far has been all about progress and overcoming obstacles, and I am so lucky to have such an awesome opportunity like this to race my bike.
Until next time…thanks for reading!